Friday the 2nd – Day 1
Day one for us didn't involve much convention stuff or so we though. Teknikal was flying back on Saturday and wasn't going to the con.
We didn't get much sleep as we'd stayed up to 4 talking about anything and everything, but we decided to go sightseeing around London.
Before then, was the LJ meetup! At the meetup I met quite a few people (again, most names escape me sorry!) including Red Phoniex, Strivaria and Missyvortexd (purpleyin!)!

The LJ Gang!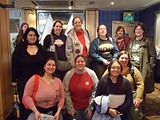 We got a tube into Picadilly Circus, walked along the Mall to Buckingham Palace, before walking down past Horseguards Parade and the War Cabinets. I was surprised I remembered the way there as I'd only ever been to Westminster once before and had the flu while I was there!
We got up to Big Ben when Shelsfc had to leave as her dad was in London that day and they were going to see The Sound of Music! Teknikal and I stayed around a little longer and got pictures of the London Eye. We walked back up to Picadilly circus. En-route I finally found a holder for my GW namebadge!
Teknikal had decided she was going to may in to the Convention party that night, so we went shopping before heading back to the hotel.
Paul made an appearance on a poster!

Spreading the word...

Spreading the word again...

I'd never been to convention parties before, so I wasn't keeping my hopes up for seeing guests or staying up late. We made our way down and Teknikal paid in. Immediately we started meeting people including Missyvortexd again, Fififfole, Shelma and several others (again, I'm bad with names so don't be insulted if I've forgotten your name!!). The meet and greet was still on (and running late) when we heard there extra guests, namely Chuck Campbell and Aaron Douglas! Fififfole nearly dropped at our feet when she heard Chuck was there! A moment later, Dan Payne walked past us, then Aaron Douglas, then David Hewlett's fiance Jane Loughman. Everyone was beginning to get really jumpy and excited and we kept hearing whoops and cheers from the meet and greet hall!
We continued chatting, when all of a sudden we heard a voice
"Where's the bathroom?"
It was Chuck Campbell!!!
We all basically said in chorus "Chuck! It's that way!"
He said thank you and walked off!
Still a little bit shocked, we turned around and saw a steward who was looking for Chuck. We shouted "He went that way!" and she ran off after him!!
Pretty soon the meet and greet came to an end and we were let in to the hall. All the guests had left with the exception of David Hewlett. At that point no-one outwith the Meet And Greet knew David wasn't well, but he was looking, dare I say, a little worse for ware :S. He waved an apology before saying he had to go. (I just wanted to hug him and tell him it was okay!)
I can't dance because of my legs (which are still swollen from all the queuing) and I don't like loud music, so while Teknikal invented a con dance I went outside (not before recording her dancing...keep an eye on my youtube channel :D ;))
The Gate!

Dan Payne

Immediately I got talking to so many people one after the other! I spotted Dan Payne again and started taking some piccies. He caught me talking them and turned round and gave me the most lovely smile! I caught a quick glimpse of Kate Hewlett who was mobbed with people so I never got any piccies of her. I decided to wander round and see if I could spot anyone with a GateWorld badge. I got talking to a nice girl who said her LJ name was pixiespymagic (though I've enountered more than one user with that name with different spellings).
Ryan Robbins and I!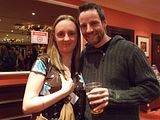 Ryan

Ryan Robbins was floating about, so I took pictures of her and some of her friends with him as well as Chuck Campbell (who was thoroughly drunk by this point!). I got my photo taken with Ryan, before a group of us got a piccy with Chuck (with Ryan joining in too!). Chuck leaned all his weight on us and after the piccy was taken looked round at each of us in turn and said "So what's your names?" with a cheeky grin lol!
Later on, someone took a piccy of me with Dan Payne (I was wearing a brown top with blue flowers so if you read this, please contact me lol!) and Teknikal took one of me with Aaron Douglas. The funniest thing is that I don't watch BSG, yet I got completely tongue-tied when I talked to him!
The rest of the night's a bit of a blur to be honest, but we ended up staying up far too late!
Shel and I talked again (well basically I talked at her and she was courteous enough to listen!) and Teknikal came up at 4am to pack her stuff!
We never got any sleep at all, and Friday rolled straight into Saturday!
Finally, if you're in any of these piccies, feel free to take them!!!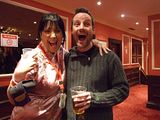 Piccy 3 now claimed!

Dan Payne's hand makes an appearance!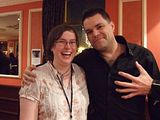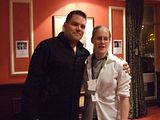 A Dog's Breakfast 6pm Screening, Odeon Covent Garden, Shaftesbury Avenue

For me, the ADB screening day got off to a slow start...
I got to Heathrow at 6am, Shelsfc and Teknikal and the hotel details got there at 12!
A quick check-in and some room problems later, we hopped on the underground to Leicester Square!
Shelsfc and I had tickets to the 6pm screening but Teknikal was going to the 4pm screening.
A short amount of directional confusion later, we found the Odeon! Yay!
There was already a queue, and we couldn't tell how long it was because people were queuing inside and out. Some people were asking what we were going in to see at the Odeon, and of course trying to explain about a film you've yet to see can be a little confusing!
Teknikal had two huge ADB posters with her, and she set to work getting the 4pm screening attendees to sign it.
Time seemed to be flying by, when were informed that the film should have already started! Turns out that there was a technical hitch. Unlike the LA screening, the problem this time round was the HD! So we waited a little longer and got chatting to people including some of the Random Hewlett Ramblers, Alex...someone...(I can't remember the rest of your username sorry!) and several others.
The queue for the first screening went in, and immediately the queue for the 6pm screening started! There was some excitement when David and Jane appeared for a moment, dissappeared and then came back several times, and that was when I got my first glimpse of him!
Shel and I decided not to start queuing, and headed to the Forbidden Planet Superstore conveniently located two blocks along from the Odeon (a bit too convenient eh? :P :D) Some books and an overpriced soft drink later (at O'Neills) and we went back to the queue! Jen from http://www.david-hewlett.co.uk, Tamrinm, Simona and Francesca (from GW) were there, and we just stood and talked and got hyper!
Finally, some very happy fans and an ecstatic Teknikal emerged! We were led straight in and some people managed to get tickets to the 2nd screening, so got to see both!
I won't spoil the film itself, but I will mention my reservations about it.
I'd initially thought maybe the film had been hyped too much as it was David's and was well aware that most peoples first attempts at writing or directing can be less than perfect.
I can now happily say that my fears were completely unfounded!
The film is fantastic with the right mix between visual gags, slapstick, sound effects, cultural references and the plain silly! The cast are all absolutely fantastic, as is the script, and it has a twist you'll never see coming! After watching this film, I will never look at Paul McGillion the same way ever again!!! Kate is fantastic playing the straight woman to both Ryan and Patrick, and David's character is so unhinged it is absolutely hysterical!!
After that, David told us we had half an hour for a Q&A, but my camera didn't like the purple lights and didn't give me any good piccies because I had to turn off KillerFlash! tm and my AF illuminator and the purple lighting made my shutter speed lag.

To be honest I can't remember much of the Q&A, but there was a question about Starcrossed. The pilot script has been sent to Sci Fi, and another few have been written. Don't expect to see Rachel or Paul in the show unfortunately as he hinted they were both busy with other projects. If the series is greenlit, David and Jane will be looking for other writers with a similar sense of humour to theirs. David described it as "Extras in Space"!
There were comments on what everyones favourite scenes were. Kate's were the scenes with Christopher Judge. Jane interjected that she was most concerned about the naked scene on the day it was minus 10! Kate then said "Oh...that was my favourite scene!"
Throughout the Q&A, David kept talking to Teknikal who was sitting in the front row! He eventually pointed at her and called her Ninja!! (she'd previously asked about David's martial arts skills in the film and she's a Tae Kwon Do instructor :))
When we went to leave, David promised autographs to those not going to Pegasus 2. At which point Jen grabbed me to go over and speak to David. She told him that she run the number one fansite. I think he had a momentary lapse before he remembered which site it was (he was clearly not feeling too well (though not many men can look that hot while they have the flu!)) a moment later he remembered, but by that point Jen had pointed at me and told him that I run the Starcrossed site. He said "Oh! Really? I've been watching that site! I watched it go from 'prototype' to 'real'!"
At that point, someone gave him a minature Dalek about an inch high. They explained to him that it had moving parts but he seemed to already know! :D
Sadly there were too many people around, David was completely swamped with attendees and Odeon staff so we were ushered out.
Teknikal had managed to get David, Jane, Kate and John to sign her other poster, and had given the other one to David as a present, so she was on cloud nine (yes so were the rest of us :D)
After that, Shelsfc, Teknikal, Jen and...sorry...I'm bad with names! A really nice woman and I went for a walkabout...We tried a couple of pubs but they were heaving with people. Instead we walked along to Leicester Square and then into a Pret A Manger before saying goodbye at Picadilly Circus (Oooh...pretty neon lights!). Shelsfc, Teknikal and I headed back to the Hotel and got some shut eye in preparation for Pegasus 2...
A few piccies! (click on the Thumbnails!)

The Poster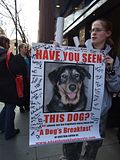 The queue!
(and is that you Ayankha?)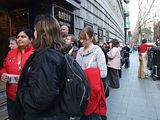 The other queue!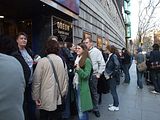 Shelsfc and Teknikal!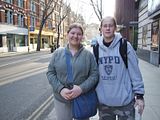 (Peg 2 report due soon!!!)